G. Michael Elkanich, M.D.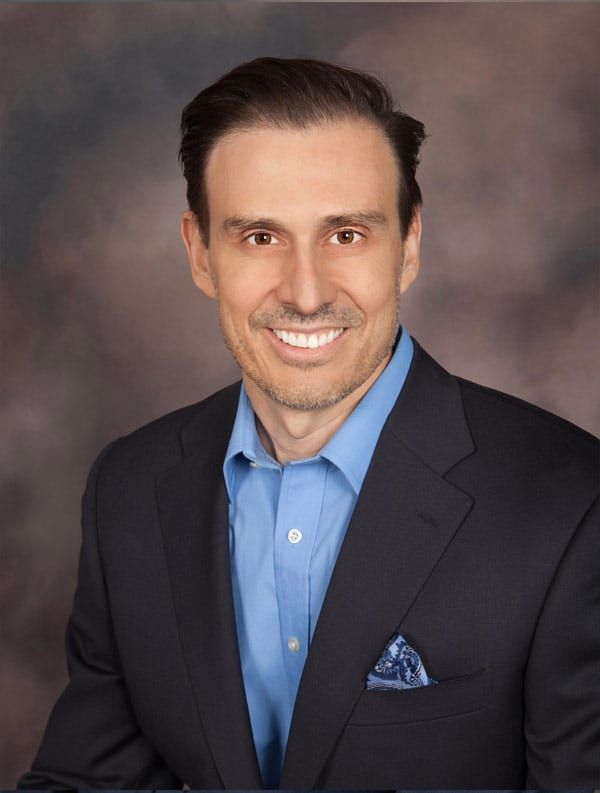 Michael Elkanich, MD is a Board Certified and Fellowship – trained Orthopedic Spine Surgeon, who has been in practice since 2004.
Dr. Elkanich's training and credentials include a Fellowship with the American Institute of Spine Surgery in 2003-2004, a residency at Stanford University in Orthopedic Surgery from 1998-2003, and an internship at the University of Illinois at Chicago from 1993-1997.  He earned his Medical Degree from the University Of Arizona College Of Medicine in Tucson in 1997, where he also received a Bachelor's Degree with honors in Microbiology & Immunology.
A recognized leader in his field, Dr. Elkanich has co-developed numerous state-of-the-art spinal devices, including:
Asitiva Altes Lumbar Plating System
Seaspine Sonoma Anterior Cervical Plating System
Seaspine Cambria Anterior Cervical Vertebral Body Replacement device.
Dr. Elkanich is a member of the North American Spine Society, American College of Spine Surgery, American Academy of Orthopedic Surgeons, Nevada State Medical Society and American Medical Association, among others.
Dr. Elkanich is an avid sportsman who enjoys basketball, golf, snow, water skiing, windsurfing fishing.
Undergraduate
Education:
University of Arizona, Tucson
B.S. Microbiology & Immunology: 1989-1993
– Magna Cum Laude
– Dean's List, 1989 – 1990
– Phi Beta Kappa Honor Society
– Phi Kappa Phi Honor Society
– Golden Key National Honor Society
– National Deans List
Post Graduate Training:
Internship: 1997 – 1998
University of Arizona, Tucson, School of Medicine
M.D., 1993 – 1997
– Alpha Omega Alpha Medical Honor Society
Residency: 1998 – 2003
University of Illinois at Chicago, Department of Orthopedic Surgery
Fellowship:
American Institute of Spinal Surgery, Sacramento, CA, Spine Surgery Fellowship: August 2003-July 2004
Director: Pasquale X. Montensano, M.D.
Stanford University, Division of Orthopedic Surgery
Certification:
Board Certified – American Academy of Orthopedic Surgeons – June 2007
Re-certified – in Orthopedic and Spine Surgery through the American Academy of Orthopedic Surgeons – 2015
Presentations:
"Back pain – Evolving Treatment Options," Tristar Workers Compensation Nurse Case Managers, Las Vegas, NV. 09/21/2007
"Advances in Spine Surgery," Nevada Chiropractic Association, Imperial Palace, Las Vegas, NV. 12/11/2004
"Current Trends in Lumbar Fusion," 18th Annual Low Back Pain Conference, Flamingo Casino, Las Vegas, NV. 09/11/2004
"Flexion Pre-Operative Flexion Contractures of the Knee in Total Knee
Arthroplasty," Stanford University Disputations, Stanford University Hospital, Stanford, CA. 06/2003
"Radial Neuropathies," Orthopedic Surgery Grand Rounds, Stanford University Hospital, Stanford, CA. 04/2003
"Talus Fractures," Orthopedic Surgery Grand Rounds, Stanford University Hospital, Stanford, CA. 10/2002
"Malignant Bone Tumors," Orthopedic Surgery Grand Rounds, Stanford University Hospital, Stanford, CA. 9/2002
"Spinal Hemangioma," Orthopedic Surgery Grand Rounds, Stanford University Hospital, Stanford, CA. 2001
"Chordoma," Orthopedic Surgery Grand Rounds, Stanford University Hospital, Stanford, CA. 2001
"Biomechanics of Tendons," Orthopedic Surgery Grand Rounds, Stanford University Hospital, Stanford, CA. 2000
"DVT: Prophylaxis and Treatment Options," Orthopedic Surgery Grand Rounds, Stanford University Hospital, Stanford, CA. 2002
"Bone Injury, Regeneration, and Repair," Orthopedic Surgery Grand Rounds, Stanford University Hospital, Stanford, CA. 1999
"Conditions Affecting Orthopedic Surgery Practice," Orthopedic Surgery Grand Rounds, Stanford University Hospital, Stanford, CA. 10/2002
"Peripheral Nerve Anatomy and Physiology," Orthopedic Surgery Grand Rounds, Stanford University Hospital, Stanford, CA. 1997
Professional Associations:
North American Spine Society
American College of Spine Surgery
American Academy of Orthopedic Surgeons
Sisyphean Spinal Society
Nevada State Medical Society
Clark County Medical Society
American Medical Association
Western Orthopedic Society