Elbow Replacement
Total Elbow Replacement
Although elbow joint replacement is much less common than knee or hip replacement, it is just as successful in relieving joint pain and returning people to activities they enjoy.
In 2010, about 3,000 people in the U.S. had elbow replacement surgery, according to the Agency for Healthcare Research and Quality.
Whether you have just begun exploring treatment options or have already decided to have elbow replacement surgery, this article will help you understand more about this valuable procedure.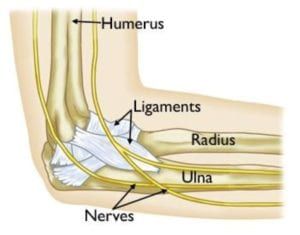 Anatomy
The elbow is a hinge joint which is made up of three bones:
The humerus (upper arm bone)
The ulna (forearm bone on the pinky finger side)
The radius (forearm bone on the thumb side)
The surfaces of the bones where they meet to form the elbow joint are covered with articular cartilage, a smooth substance that protects the bones and enables them to move easily. A thin, smooth tissue called synovial membrane covers all remaining surfaces inside the elbow joint. In a healthy elbow, this membrane makes a small amount of fluid that lubricates the cartilage and eliminates almost any friction as you bend and rotate your arm.
Muscles, ligaments, and tendons hold the elbow joint together.
Description
In total elbow replacement surgery, the damaged parts of the humerus and ulna are replaced with artificial components. The artificial elbow joint is made up of a metal and plastic hinge with two metal stems. The stems fit inside the hollow part of the bone called the canal.
There are different types of elbow replacements, and components come in different sizes. There are also partial elbow replacements, which may be used in very specific situations. A discussion with your doctor will help to determine what type of elbow replacement is best for you.
Several conditions can cause elbow pain and disability, and lead patients and their doctors to consider elbow joint replacement surgery.
Your medical team will give you several doses of antibiotics to prevent infection. Most patients are able to eat solid food and get out of bed the day after surgery. You will most likely stay at the hospital 2 to 4 days after your surgery.
Your orthopaedic surgeon will explain the potential risks and complications of elbow joint replacement, including those related to the surgery itself and those that can occur over time after your surgery.
Most complications can be successfully treated. Possible complications are described below.
The majority of patients have experienced an improved quality of life after total elbow replacement surgery. They experience less pain, improved motion and strength, and better function.
You should expect to do all basic activities of daily living, such as getting a plate out of a cabinet, cooking dinner, lifting a milk jug, styling your hair, basic hygiene, and dressing. Talk to your doctor about activities you may want to avoid, such as contact sports and activities with a major risk of falling (such as horseback riding or climbing ladders), as well as heavy lifting. These things increase the risk of the metal parts loosening or breaking, or the bone breaking.
When traveling on airplanes, be prepared for extra security screening. There is a chance that your metal implant will set off the metal detector during the security check-in.
To make the check-in go more smoothly, tell the security officer beforehand that you have an elbow replacement and carry a medical identification card. Although this does not change the screening requirements, it will help the security officer confirm the nature of the alarm. Be prepared for the security officer to use a wand scanner, and perhaps examine your arm in a private area in order to see the scar. The new body scanners can identify joint replacements, making further individual screening unnecessary.
Research is being done in the area of implant design in order to make the replacement components last as long as possible.
Because total elbow replacements are often needed by people with rheumatoid arthritis, a lot of research is conducted into joint degeneration in these patients. Many newer medications are available that help to slow down the disease and often avoid the need for an elbow replacement. There is no medication, however, that will turn back time and restore the elbow to normal once the disease has progressed.